Please patronage this German family bloodline by clicking on any of the following companies: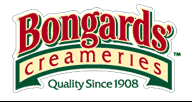 CHAPTER Ia
The Germans Come Ashore

The Daniels family bloodline holds constant in the now-Duisburg area of Prussia/Germany for the century plus that we can find record. The genetic record of Daniels have a pre-American history with the families of:
Engel/Engelen, Graupmann,
Stuedemann, Mueller,
Merkamps, Tops/Topp, Bongards/Bonngard, Bremmecamp and Bergman who also emigrated to the United States.
Sure they came - but what did they leave?
from Gene Daniels:
The Daniels family that we are primarily interested in, immigrated from the German area of the Rheine valley. This would now be known as the states of Nordrhein-Westfalen, a highly industrialized region with Düsseldorf as it's capital, and Rheinland-Pfalz, an economic center with Mainz as it's capital. Two-thirds of the country's wine comes from Rheinland-Pfalz.
...and why?

Map of Duisberg
Hochemmerich, Rheinland, Preussen (now the area of Duisberg, just north of Dusseldorf)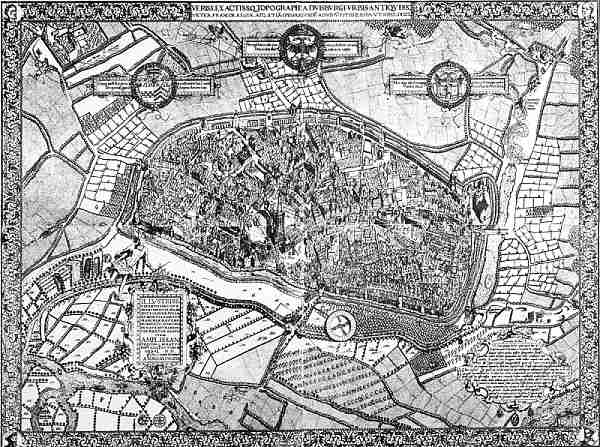 The following family history graciously offered by Gene Daniels:
Note about the author: Gene hails down from the loins of the 6th child (3rd son) of Michael and Katharina Daniels, Gerhard. Gerhard is a first generation American, born in Carver County, Minnesota and married Anna Graupmann. They eventually went westward to Wyoming - where Gene descends. That story and more to come - but first:
Introducing the Daniels' family.
"The founding fathers of Hamburg, Carver County, Minnesota, claimed Germany as their homeland. Conditions in Europe, and especially in Germany, were in a constant state of war which existed among the many kingdoms and duchies in the 1800's. Numerous attempts were made to unite the states and to create a solid German Empire. The hard times that swept over the Continent in the 1840's transformed widespread discontent in the German Confederation into a full-blown revolution (1848/49). After the middle of the decade a severe business depression halted industrial expansion and aggravated urban unemployment. At the same time, serious crop failures led to a major famine in the entire area from the Irish Sea to Russian Poland. In central Europe the "hungry 40's" drove the lower classes, which had long been suffering from the economic effects of industrial and agricultural rationalization, to the point of open rebellion. There were sporadic hunger riots and violent disturbances in several of the states, but the signal for a concerted uprising did not come until early in 1848.

The years that followed were a period of unmitigated reaction. Those who had dared to defy royal authority were forced to pay the penalty of harassment, exile, imprisonment, or even death. Many of the political concessions made earlier, under the pressure of the popular turmoil, were now restricted or abrogated. It was at this time that Otto Von Bismarck, known as the "Iron Chancellor", came into power. His full name was Otto Eduard Leopold, Fürst (Prince) Von Bismarck, Graf (Count) Von Bismarck-Schönhaussen, Herzog (Duke) Von Lauenburg. He believed in a strong army, and the conscription of men increased from 40,000 to 80,000 annually. His political party was recruited almost exclusively from the agricultural classes. He succeeded in preserving the peace in Europe for about two decades, but his domestic policies were less benign and he retained all the authoritarian proclivities of the landed nobility.

With this brief background information we may visualize the homeland conditions of our founding fathers. All the land was owned by the nobility and the middle and poorer classes of people were subject to the whims and dictates of the leaders in the various smaller political divisions. There was no opportunity for the common people to own property either by purchase or inheritance; all were indebted to the political head. These facts made life almost unbearable for the populace of these political divisions. Many German people made the daring decision to leave their homeland, friends, and relatives to face a hoped-for new life in the United States. Reports were received that the United States was encouraging new settlements, especially in the Midwest and the West, where land was available for a minimal amount of money. Filing fees for a claim usually were about two or three dollars and, if a person homesteaded the property for a period of five years, he could own the claim at a closing cost of another couple of dollars. Some land prices ranged from one to two dollars per acre. One of the regions that came to their attention was the territory known as "Minnesota" which had a climate and topography similar to their homeland in Germany. To be free again, to again become landowners, and to build a better future for their families, they resolved to migrate to this land of Minnesota in America.

And now: The Daniels Scourge
Hailing from: Hochemmerich, Rheinland, Preussen (now the area of Duisberg, Germany)
Departed to the U.S.A. from: Rotterdam, Netherlands and landed at New York, U.S.A. on 25 June 1858
and brought to your shores by:
The ship "Schooner Barque Epaminondas"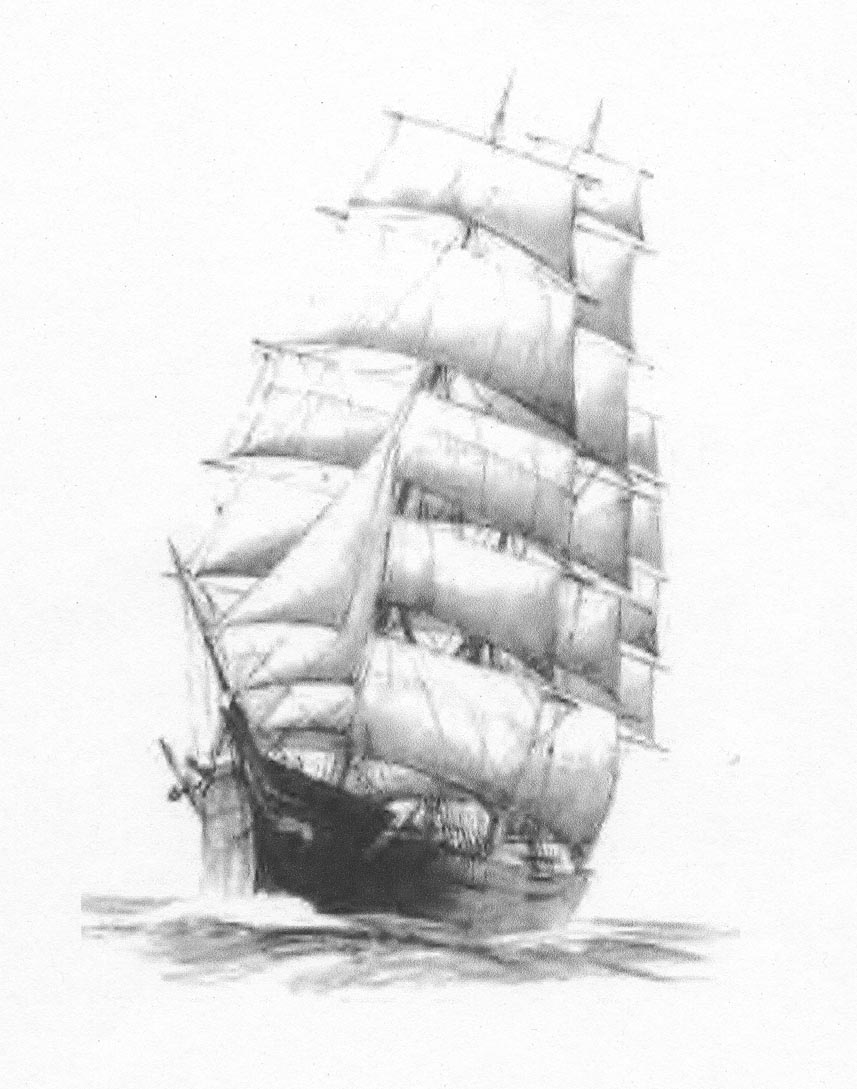 circa: 1850's
- courtesy of Gene Daniels -
History: A charcoal tracing/copy of the original that was in the Granger & Co. office.
for a higher resolution print click HERE!
Then click BACK to return here.

---
Schooner Barque Epaminondas
According to Lloyd's Register, the Epaminondas was a three (3) masted main topsail schooner, sheathed in felt and yellow metal in 1850, then partly sheathed in yellow in 1852 and fastened with iron bolts. Her Master was Captain H. Kerr and her tonnage was 1,125 tons using old measurements and 1,171 tons using new measurements. The vessel was constructed in 1850 in Quebec, using Oak, Hackmatack, Elm, Birch and Pine, 160.8x34.0x22.0 in size. She had 16 total sails totaling 538 sq. meters (5,800 sq. ft.) in area, with 139 lines of running rigging, totaling 7 Km of line. Block and tackle was used to set sail. There was fresh water for drinking, but sea water had to be used to bath and clean. As there were no refrigerators they used "dry" stores and "tinned" food. The normal passenger list was approx. 220. The owners, Granger & Co. registered her at Belfast and her port of survey was Liverpool.

The ship that Michael and Katharina Daniels came to America aboard. It sailed from Rotterdam, Netherlands and landed at New York, U.S.A. on 25 June 1858. Katharina's parents, the Engel(en) family, were also aboard this ship.
-information provided by Gene Daniels, WY -
---

(some of the following pictures are courtesy of defined sources from www.wikipedia.com)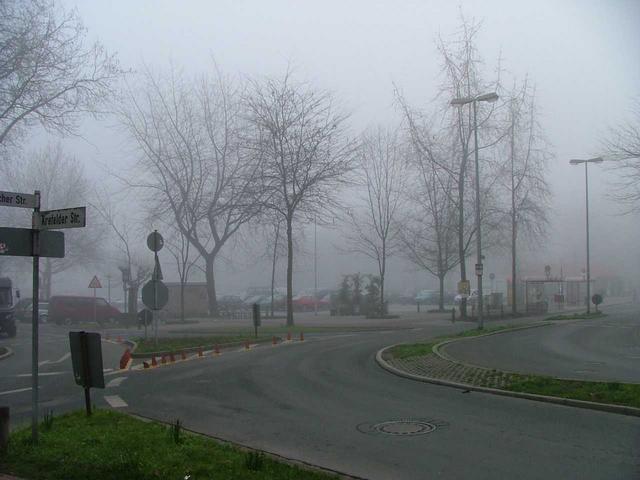 Hochemmerich, Rheinland, Preussen (as it appears now: Duisburg, Germany)
This is what my ancestors of three generations ago escaped...hmmm...curiously familiar now...'what exactly were they leaving'?
----------------------------------------------------------------------------------------------------------------------------------------------------------------------------------------------
After the Napoleonic wars and just before the Franco-Prussian War - the families of Daniels, Engelen, Mueller, Heimke and Graupmann determined that life was elsewhere - across 'the pond'.
----------------------------------------------------------------------------------------------------------------------------------------------------------------------------------------------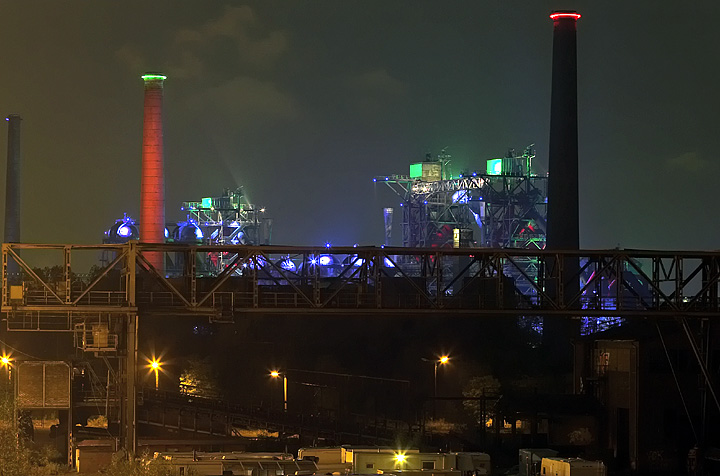 Duisburg, at night - something's just don't change
----------------------------------------------------------------------------------------------------------------------------------------------------------------------------------------------
Pictures of Katharina Engelen's hometown of Wiesbaden (Spa city) as it appears today.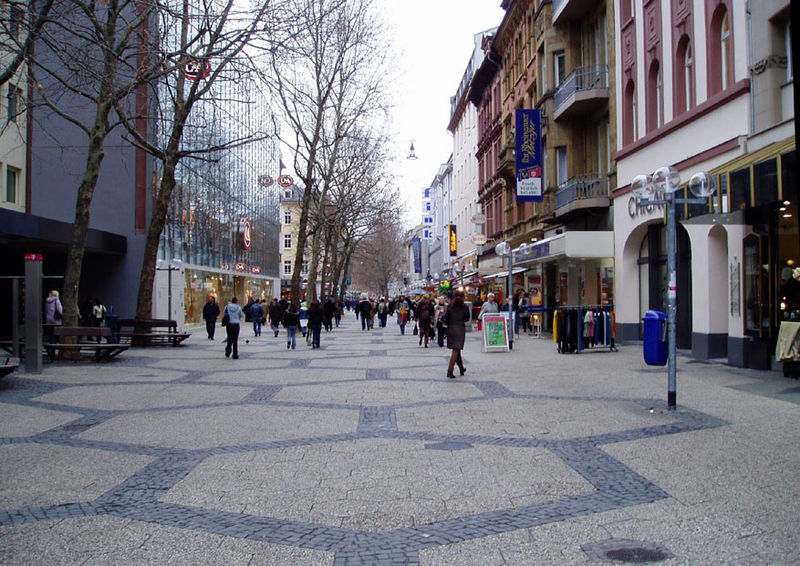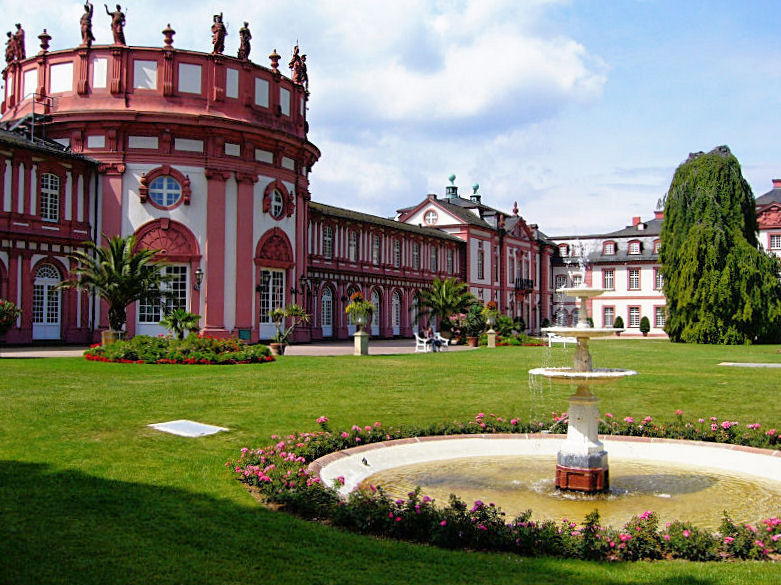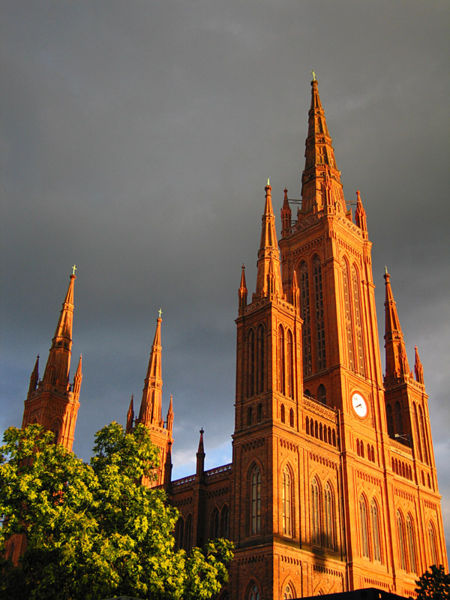 The Prussian Daniels
(a river family)
(The Daniels family genetics have deposits in Duisburg, Dusseldorf, Wiesbaden and Strasbourg)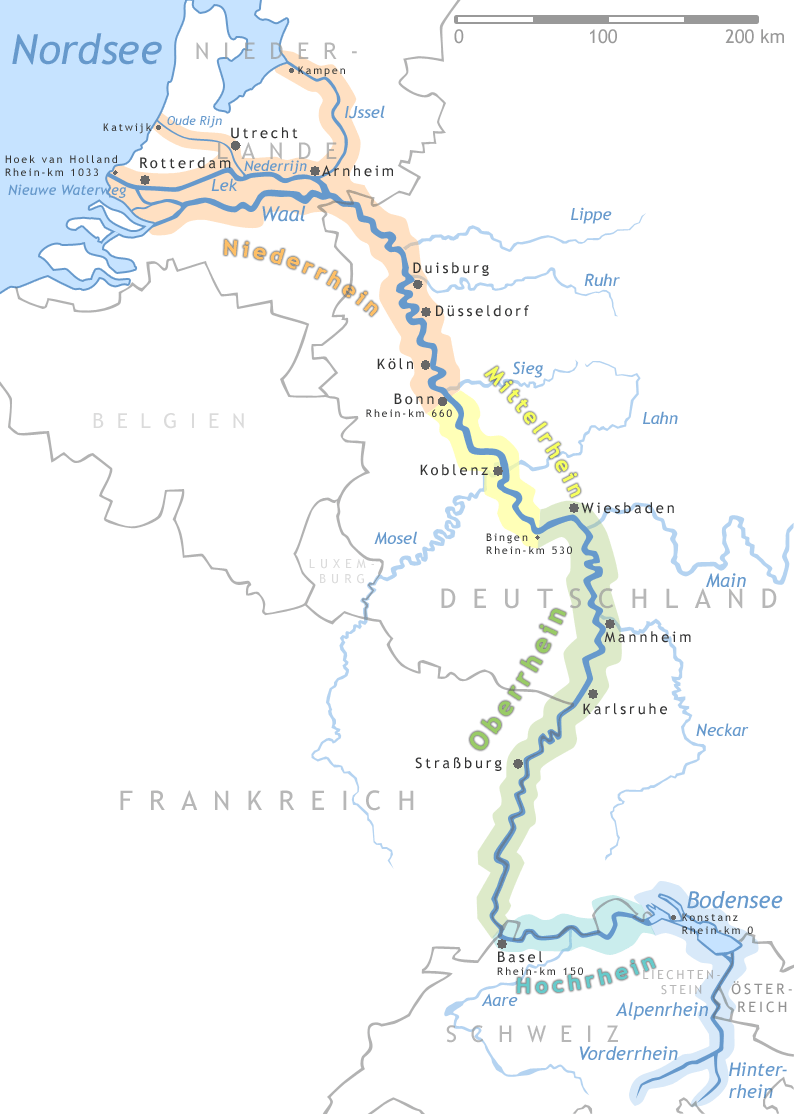 The Daniels' genetic strain favored river life and it is along the Rhine River valley in Prussia (Germany) where I find earliest trace of them. From Duisburg to Düsseldorf to Wiesbaden to Strasburg [Strasbourg] - they favored the flow of rivers. They left Germany less than a decade after the 1848 German Constitution during the reign of William I and Prime Minister Bismarck and they arrived in Minnesota just as it became a state (1858). Although Minnesota was the "Land Of Lakes", the Daniels family opted for the familiar river valleys of the Mississippi and Minnesota rivers, continuing in a favorite and familiar environment. Other German families in the Daniels' genetic orbit from Germany to Minnesota were the Engelen's, Mueller's, Bongards/Bonngard Merkamps, Heimke's, Graupmann's and others.
Like my Norwegian ancestral family, one thing stands clear....these Prussians/Germans chose to leave their native country for the better. Of course - while the Norwegians left to escape permafrost boredom and lutefisk, my German side left to escape rape, plunder, scourge, pickled cabbage and, oh yea...the Franco-Prussian War.
My great, great, great grandfather Johann Daniels married Sybilla Merkamps on 31 Aug 1831 in Hochemmerich, Rheinland, Preussen (Prussia/Germany), now the area of Duisburg - where Michael was born. Sybilla is buried right here in Hamburg, Minnesota - in the same churchyard of her son Michael and his wife Katharina Engelen. I've yet to find and photograph Sybilla's grave marker and Johann Daniels' burial site is unknown at this point.

Germany today with notations of the earliest known Daniels family movement. My family left Prussia/Germany during the reign of William I and Prime Minister Bismarck and the 'German Revolutions' (after the Constitution of Germany in 1848). Though they left long before Hitler...I've always been sure they were guilty of something.
Daniels' origins follow the rivers; Michael and Katharina's continued in favoring the Rhine River in Germany/Prussia and later the Minnesota River in Minnesota. Some of their children would later gravitate to the shores of the Mississippi River.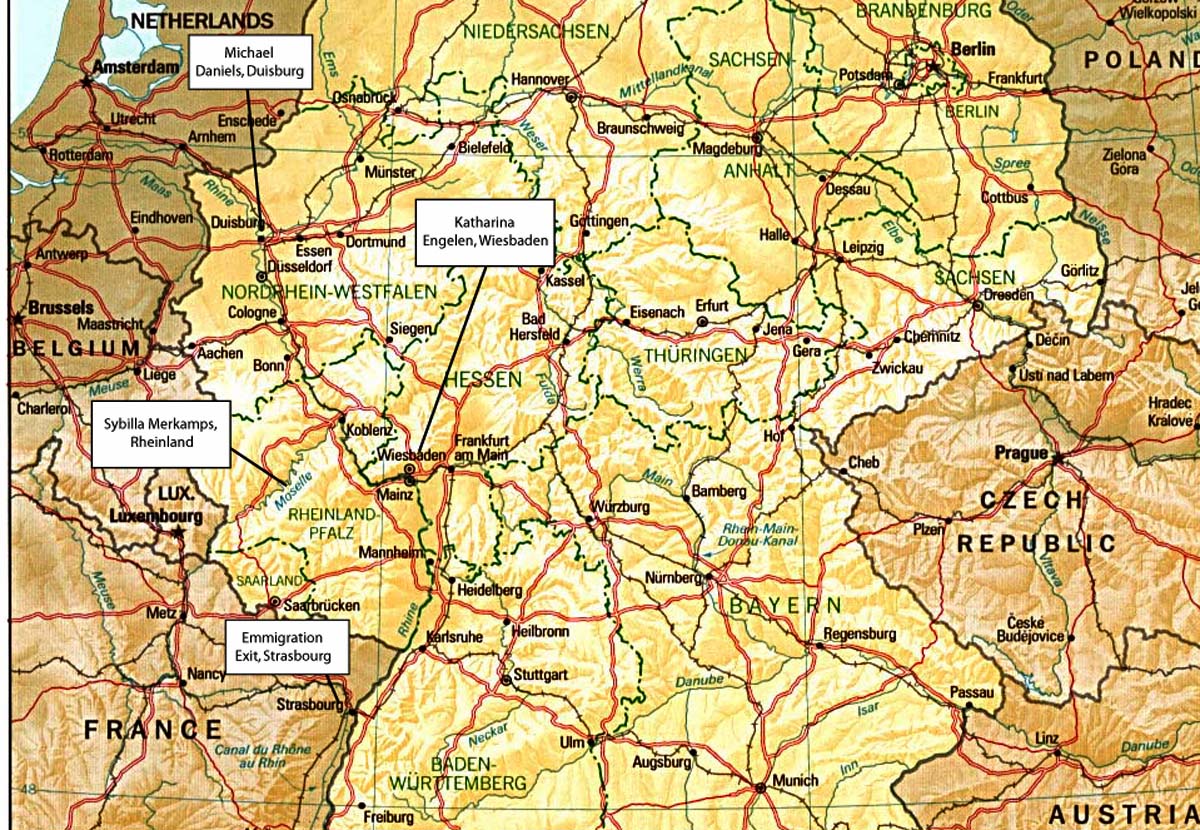 Once in Minnesota, rivers were not in lack and the Daniels predilection for rivers held its banks - all rivers flow OUT of Minnesota.
Upon arrival in the Minnesota territory, the German family tree set roots along the northern bank farmland of the Minnesota River Valley in the locales of what they would name as: Hamburg, Cologne, Norwood and Plato as seen in the map locations SHOWN BELOW. The Minnesota River cuts through the lower right of the 16 mile diameter circle and Hwy 212 was then a cattle trail from the west.

Once again: Gene Daniels provides deeper details and another angle on the family history:
DANIELS/GRAUPMANN ARRIVE IN CARVER COUNTY

The arrival of settlers into Minnesota began around 1840 when Minnesota was still a Territory of Wisconsin. Minnesota became an official territory of the United States in Mar. of 1849. Nine years later, on May 11, 1858, Minnesota Territory became the state of Minnesota. First Dietrich and Henrietta Graupmann arrived in 1857, followed by Michael and [Katharina Engelen] Daniels in July 1858. They both took up homesteads a few miles apart. The Stuedemann and Engel families also arrived at this time, having all traveled together while crossing the ocean.

Their entrance into Minnesota was by way of Illinois with a final rest-stop at Cooper's Grove near Chicago. The most used path was by rail from Chicago to Prairie du Chien in Wisconsin. From here they journeyed up the Mississippi River by steamer to St. Paul, and then up the Minnesota River by smaller steamboat to possibly Chaska and then Carver. Most of the travelers made the final trek to what is now the Hamburg area by loading their meager belongings into crude carts. Dietrich, being a drover, had the luxury of traveling by wagons drawn by oxen. While changing steamers in St. Paul, they took the opportunity to acquire their homestead claims in nearby St. Anthony. These larger towns also gave them the opportunity to buy the immediate necessities of tools, especially the invaluable axe, clothing, food, and ammunition for hunting.

It is almost impossible to visualize the ruggedness and loneliness of early pioneer life. The search of the wilderness to locate a site for their new homes, clearing the land for their house and crops, struggling with the elements in Minnesota's climate, especially the winter months, contending with diseases such as diphtheria, aggravated by insect pests, and, in general, struggling to remain alive and well.

Because of all of this, we the future generations of these pioneers, can be both proud and thankful for all their efforts in establishing a new start in this new world.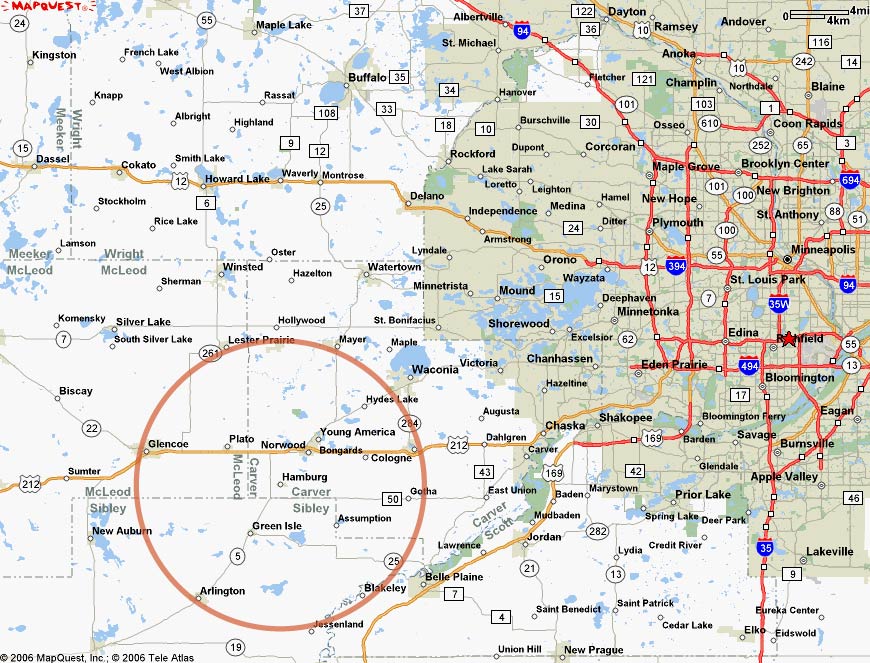 The red circle represents an eight mile radius around the town of Hamburg (16 mile diameter) where the Daniels first planted their Minnesota roots. The Minnesota River intersects at the south east edge of the circle (by Blakeley and Jessenland). I figured an eight mile radius was a logical median measure of daily/weekly/monthly ranging for where the family would have spent the majority of their (pre-automotive) lives. To the west this includes the larger towns of Glencoe, to the south Arlington and to the east, Cologne).

(....and even more historical baubles from Gene's collection)
a reading of Johann Daniels & Sybilla (Merkamps) Daniels history
~
Sybilla [Merkamps] Daniels
Sybilla came to America in June of 1864 along with her son Johann. After arriving she lived on the homestead near Hamburg, Carver, Minnesota with her son Michael and his family. She was buried at the Emanuel Lutheran Church Cemetery at Hamburg, MN. in 1880.

Michael Daniels
(Son of Johannes & Sybilla [Merkamps] Daniels)

Arrived in the U. S. on 15 June 1864 along with his mother Sybilla. He received his final Naturalization papers 22 June 1877. Johann never married but devoted his time to running and operating his "Union Saloon" in Norwood, Carver, MN. He did this until 1901, at which time he sold the business to his niece's husband (August Fabel). Johann was a charter member of the "Hermann Lodge", a German social order that promoted singing. He belonged to the Norwood-Young America's Pioneer Maennerchor (Men's Choir) which held a picnic for their friends and family which they called Stiftungsfest or Founder's Day Festival. This was started in 1861 and is still being held every August, the oldest running festival in Minnesota. He enjoyed playing baseball and singing. He is buried at the Forest Hill Cemetery at Norwood, Carver, MN.

Michael Daniels & Katharina Engel (First Daniels family in Carver Co. MN.)

Sometime during early May, Michael along with his wife Katharina, daughters Catharina and Cybilla, left their home in the Ruhr region of Germany by boat from Duisburg (where the Ruhr & Emscher Rivers meet the Rhine River) by going down stream to Rotterdam, Netherlands. They then boarded a larger sailing ship by the name of "Epaminondas" with a passenger list of some 220 persons, and sailed out into the North Sea. They arrived in New York on 25 June 1858, some seven weeks after starting, and immediately traveled to Minnesota. Catharina's father Diedrich Engelen and family also joined them on this trip from Germany to America. Michael received his final naturalization papers on 17 March 1865. The location of the farm he homesteaded can be seen on the 1880 County plat of property tax records. The farm lay just west of present site of Hamburg, MN. Michael can be remembered by one of his grandsons as wearing wooden shoes, which made a loud noise when he walked. Katharina is remembered as having a picture of Otto Von Bismarck which was her prize possession. Michael finished his life living on the farm and being buried at the Emanuel Lutheran Church Cemetery. Katharina later in life was moved to Norwood and stayed with her daughter. She died in Norwood, but was buried along side of her husband in Hamburg, MN.

The Daniels family, consisting of four sons and five daughters, grew and prospered, as each one had accepted the many duties and tasks associated with the operation of a farm. September of 1880 proved to be a very disturbing period, as first with the passing of Michael's mother Sybilla on the 10th., and then losing his oldest son Johann on the 26th. By 1898 Diedrich had moved to Norwood to work, William had taken his family to Washington state, and all five daughters had moved away to raise their own families. This left only Gerhard to help his father manage the farm. Michael had deeded the farm over to Gerhard as can be seen on the 1898 site map for tax assessments.

LATER, Dean recalls the impending history: My immediate family bloodline (apparently those favoring alcohol) gravitated to the populous density of saloons above the Bohemian Flats area in Minneapolis along the Mississippi River and became...ACK!...Democrats! That would be just immediately SW of the BLACK DOT for the city Minneapolis above.
ABOVE THE MIGHTY MISSISSIPPI:

Bohemian Flats Park (Seven Corners is above, on the hill)
Directly below the Washington Avenue Bridge on the west bank of the Mississippi is a long expanse of park called Bohemian Flats. Back in the 1860s, immigrants searching for jobs in nearby industries began settling on the river flats. By 1900 more than 100 houses, a few stores, and a church created what many described as an Old World-style village below the University.

Because Bohemian Flats lay just a few feet above the river, it flooded every spring, forcing many of its residents to relocate to higher ground or put up with water in their houses. In addition to floods, the picturesque village also attracted its share of artists who fell in love with the village scene of ramshackle buildings, hand water pumps, and people washing their clothes along the river. S. Chatwood Burton, a professor at the University, used a cottage on the flats as his studio and painted many scenes of life there.

Seven Corners is officially located at Cedar and Washington Avenues intersection(s) in Minneapolis, Minnesota. Just a few blocks south is the intersection of Riverside and Cedar Avenues known as Five Corners. St.Paul also has a locale known as 'Seven Corners'.

I lived directly on the Seven Corners' intersection for seven years and I was well within staggering distance of more than a dozen bars where my grandfather had played his violin.

Picture above shows the construction of the Northern Pacific Railroad Bridge over the Mississippi River in 1880, with Bohemian Flats underneath.

You have to look very closely to see the houses.

Early Bohemian Flats

aka: gypsy camp.

The Washington Avenue Bridge

the glory days

...and poor Bohemian Flats under it's rain of rust.

View from atop the Washington Avenue Bridge looking southeast over Bohemian Flats.

When the Bohemian Flats flooded every spring, residents temporarily moved to higher ground.

Pictured is Immanuel Evangelical Slovak Lutheran church and the old Washington Avenue Bridge (1898).
I begin with my great grandfather, Diedrich, only because he is the oldest German family member of whom I have found an actual photo. He was known widely and popularly on Seven Corners as "Skipper", due the captain's hat he donned every day. He was to end his days on earth pretty much as he began them...as a large and ornery German. He was last known as an efficient and effective bar bouncer in a 7 Corners' pool hall, tossing out twit chuckleheads from the University of Minnesota and Augsburg Lutheran College - "cocky collegiates" (as he called 'em) who refused to pony up on their "pool table bets". He, to tale, relished the head banging job....imagine a 70 year old Bruce Willis I guess. One of the great mythical tales of "Skipper" is one where he is to have stood on a soapbox during WW1 and loudly extolled the 'advanced' virtues of the Germanic people. I have a little trouble believing this, because his own sons Henry, William and John had taken up the gun and were fighting against the Germans as Americans. But, then again this is not at all unusual because ornery Germans are prone to stubborn family arguments. Hell, papa and I enthusiastically disagreed at most every level of concept, to the point of near fisticuffs. Every day that I now grow older, I wish papa was here so I could tell him that he was right in most every category we clashed over...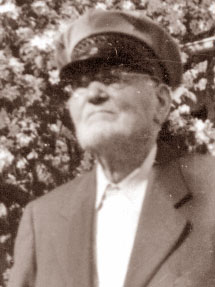 Diedrich Daniels (Skipper)
1862-1952
My great grandfather: beloved butt-kickin' bar bouncer, skull-crusher and proud German.
Skipper was a child of Michael Daniels and Katharina Engelen, my great, great grandparents, who were both of Prussian birth and were the first of the family to leave what would become a unified "Germany" - emigrating out from the town/city of Strasbourg (then a part of southern Germany ~ now a part of the foul pig-dog France) - eventually leaving a dying Europe thru the port of Rotterdam, Netherlands. The data on Michael and Katharina reads that they were married on Nov 11, 1853 in a civil ceremony at Hochemmerich, Rheinland, Germany - emigrating shortly afterwards with the Engelen family and others to the United States of America...Minnesota precisely. Michael and Katharina settled in the Hamburg area of what would become the county of Carver just southwest of the now metro Twin Cities area of Minnesota.
Diedrich's father Michael came from the Prussian loins of Johann Daniels (Rheinland) and Sybilla Merkamps (Rheinland, Preussen) - my great, great, great grandparents. My mental image of Johannes and Sybilla paints a stoic mental picture of an impossible era of transformation of ruthlessness to peace - one they apparently traversed successfully as a couple. They loved long enough to create a future together. My Germanic family traces their traverse along the Rhine, they were river people...a providential prediction as to why they settled along the Minnesota and Mississippi rivers of Minnesota.
re: an Era of Romanticism:
One would suppose that son [Daniels] Michael pursued [Engelen] Katharina but genetic evidence supports that it is easily the other way around, and I expect it to be so; enter Katharina, the Prussian 'predatoress'. Daniels' males are so quickly beset and subdued by voluptuous sirens in such quick dispatch that they barely learn how to spell "date". [I know this], for even my own wife, Debbie finds spellbinding genetic origin from this area of the Rhine, as she is a female French-Pig-Dog. Katharina would have been such a predator of wing, stealth with purpose, her focused eyes forward on family; and Michael...a bounding, clueless [probably drunken] German hare...unawares of the descending shadow of destiny overtaking him. Just like father Johann before, who was felled by mother Sybilla and then myself - cut down by a French Floozy...4 generations later.
That is as far back as it goes, and the beginning of the story is yet to be unearthed. Johannes remains unfound but Sybilla, Michael, Katharina and the family headstones still stand silently in the Germanic immigrant havens of Hamburg and Norwood, Minnesota and the cold north wind still cuts there with the unforgiving edge of a bone knife. My cousins and I often played Memorial Day headstone-tag above the graves of Sybilla, Michael, Katharina and the families without thoughts of the deeply rooted heritage and without a nod of honor.
The Germanic family shrubbery: bright yellow denotes the lineage of my fall from the tree...and further from grace.
The total number and names of Johann and Sybilla's children is still unknown BUT there was at least ONE brother of Michael, assumed to be John who ran a saloon in Young America, MN and is buried in the Norwood city cemetery.
Lineage Legend
IF YOU KNOW MORE - CONTACT ME.
Earliest Record of my Daniels lineage from US and German Census data

Jann (Johann)
husband

Birth: Abt. 1668
Death: 17 June 1738 @ Hochemmerich, Rheinland, Preussen

Note: It is more than likely that Jann served in the military at some time during his life. Germany was in one war right
after the other at this time.
---

Metgen (Druitgen)
wife


Unknown
Birth: Abt. 1682
Death: 2 Jun 1752 @ Hochemmerich, Rheinland, Preussen
---

Children of Jann & Metgen:

Tilman
born: 22 Dec 1705 @ Hochemmerich, Rheinland, Preussen

Neesken
born: 20 Oct. 1707 @ Hochemmerich, Rheinland, Preussen

Maria
born: 16 Jan. 1710 @ Hochemmerich, Rheinland, Preussen

Gerhardt
born: 23 Apr. 1711 @ Hochemmerich, Rheinland, Preussen

Jacob
born: 29 Mar. 1713 @ Hochemmerich, Rheinland, Preussen

Geordt
born: 12 Aug. 1715 @ Hochemmerich, Rheinland, Preussen

Michael
born: 1718

Petrus
born: 1722

Hendrich Bongards

husband

Elisabet (unknown)

wife

Michael Daniels
Birth: 1718 @ Hochemmerich, Rheinland, Preusssen
Christened: 1718 @ Hochemmerich, Evangelisch Church, Rheinland, Preussen.
Death: 16 Nov. 1802 @ Trompet, Moers, Rheinland, Preussen


Note: Records indicate that he was 84 years of age at date of death.

Married:

Enneken Bongards

4 Feb. 1766 @ Hochemmerich, Rheinland, Preussen, Civil rites.



Enneken Bongards


Born: Unknown @ Trompet, Moers, Rheinland, Preussen
Died: 9 Feb 1773 @ Trompet, Moers, Rheinland, Preussen
Note: Also called "Enneken Trompetter" indicating the town she was from.

Tilman Merkamps

husband

Anna Bongards

wife

Unknown
Heinrich Tops/Topp

husband

approx: 1730


Lisabeth Bremmecamp

wife

approx: 1730


Johann
Gottfried Mueller

b. circa 1730

Anna Catherine Bergman

b. circa 1730Johann

Unknown
Engelen

b. 1740 in Hochemmerich,
Rheinland,

d. 9 Nov 1800 Lohmannsheide, Rheinland.

Johann Engelen m Elsken Tops/Topp on 12 Oct 1766, in
Baerl.

husband

Elsken Tops/Topp

b 30 Sept 1745, in Baerl

wife

William Engelen

b 31 May 1774, in Baerl,
Rheinland, Prussia.

On 8 Mar 1795 he married Sybilla
Mueller in Luetzenkirchen, Rheinland

Sybilla Mueller

bap 1 Apr 1774 Dusseldorf Stadt, Rheinland

Johann DANIELS

Husband

(b: Prussia)

Sybilla MERKAMPS

Wife

1798-1880


Birth: 23 Mar 1798 Place: Rheinland,Preussen
Death: 10 Sep 1880 Place: Hamburg,Carver Co.,MN.
Burial: Sep 1880 Place: Hamburg,Carver Co.,MN.
Burial: Sep 1880 Place: Lemanual Lutheran Church Cemetery
Spouse: Johann Daniels
Marriage: 31 Aug 1831 Place: Hochemmerich,Rheinland,Preussen

Diedrich ENGELEN

b. 6 Oct 1804 -

d. 6 Dec 1882 in Benton, Carver, MN

Diedrich was born 6 Oct 1804. He married Katherine
Schneiders, 19 Sept 1826. She was born about 1802, and
died in Benton, Carver, MN 15 May 1893. Diedrich died
6 Dec 1882 in Benton

Husband

Katharine

Schneider(s)

b. about 1802

d. 15 May 1893 Benton, Carver, MN

Wife

Michael DANIELS b:1828; d: 1908

Husband M Male W 52 Hochemmerich, PRUSSIA Farmer

Katharina ENGELEN b: 1830; d: 1917

Wife M Female W 49 Wiesbaden, PRUSSIA Keeps House

Elizabeth ENGELEN b: 1840; d:
Michael Daniels

B:14May 1828 Hochemmerich, Schwarfheim, Keissmoers, Germany;

D:25FEB 1908; Hamburg, MN; Emanuel Lutheran Cemetery

Katharina Daniels

B:13AUG 1830 Wiesbaden, Germany;

D:07DEC 1917; Hamburg, MN; Emanuel Lutheran Cemetery
Children/Household of Michael and Katharina Daniels

as of the: 1860 U.S. Census (Young America township, Carver county, MN)
Catherine

6

born Prussia

Cebilla

4

born Prussia

John

1

born Carver, Minnesota
I have new records of Catherine and Cebilla that I will post in time. John died in 1880.

as of the: 1880 U.S. Census (Young America township, Carver county, MN)
John

Diedrich

Gerhard

William
Eliza
Margaret
Anna

Son

21

born Carver, MN

Farm Laborer

Died shortly after

this 1880 Census

(September 1880)

same month as grandmother Sybilla

Son

18

born Carver, MN

Farm Laborer

My direct lineage.

CLICK HERE for more information!

Son

16

born Carver, MN

Farm Laborer

FINALLY!!!!

The Wyoming lineage reports in - please stay tuned for updates here.

CLICK HERE for more information!

Son

14

born Carver, MN

Farm Laborer

The descendants of William have reported in - so let's see what they have to say.

CLICK HERE for more information!

Daughter

12

born Carver, MN

At School

Daughter

10

born Carver, MN

At School

Daughter

8

born Carver, MN

At School